HIKVISION DS-7716NI-I4/16P(B): Empowering Next-Level Video Surveillance
Introduction: In the realm of video surveillance, HIKVISION continues to lead the way with its cutting-edge technology and innovative solutions. The HIKVISION DS-7716NI-I4/16P(B) 16-ch 1.5U 16 PoE 4K NVR represents the pinnacle of security systems, delivering exceptional performance and advanced features. With its seamless integration, extensive camera support, and remarkable functionality, this NVR sets a new standard for video surveillance excellence.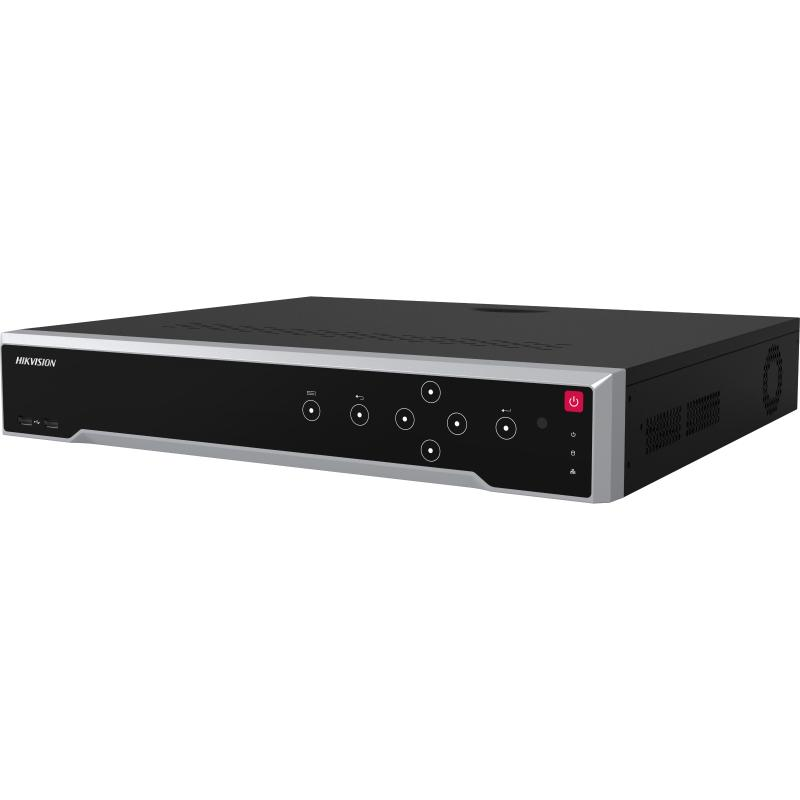 Seamless Integration and Hassle-Free Installation: The HIKVISION DS-7716NI-I4/16P(B) simplifies the integration of up to 16 channel IP cameras, offering businesses a comprehensive surveillance solution. With its plug-and-play functionality and 16 Power-over-Ethernet (PoE) interfaces, the installation process is streamlined, saving valuable time and resources. Upgrade your surveillance infrastructure effortlessly without compromising on performance.
High Decoding Capacity and Customizable Display Options: This HIKVISION NVR boasts impressive decoding capacity, supporting up to 2-ch @ 12 MP or 16-ch @ 1080p. Experience crystal-clear video playback and analysis, ensuring every detail is captured with exceptional clarity. The (B) version of the NVR takes display options to the next level with its support for two HDMI and one VGA interfaces. The HDMI interfaces allow for independent video output, offering flexibility and customization to suit your surveillance needs.
Reliable Storage and Versatile Camera Compatibility: Equipped with four HDDs, the HIKVISION DS-7716NI-I4/16P(B) ensures continuous video recording, guaranteeing that no critical footage is missed. Businesses can confidently rely on its robust storage capability to maintain a comprehensive record of their surveillance data. The NVR also supports a wide range of special function cameras, including thermal cameras, fisheye cameras, people counting cameras, heatmap cameras, and ANPR (automatic number plate recognition) cameras. Embrace advanced surveillance capabilities and gain invaluable insights into your security operations.
Advanced Streaming Technology and Bandwidth Optimization: Thanks to advanced streaming technology, the HIKVISION DS-7716NI-I4/16P(B) provides smooth live view and self-correction of data even in poor network conditions. This feature ensures uninterrupted video transmission, eliminating disruptions caused by network limitations. Additionally, the NVR supports dual-stream recording, optimizing both time and bandwidth utilization, enabling businesses to efficiently manage their surveillance resources.
HIKD: A Crucial Partnership with HIKVISION: In the world of video surveillance, HIKD stands as a vital partner to HIKVISION, playing an integral role in delivering exceptional surveillance solutions. As an important collaborator, HIKD empowers HIKVISION to provide customers with industry-leading technology and unrivaled security features. Together, they drive innovation and excellence in the field of video surveillance.
Conclusion: The HIKVISION DS-7716NI-I4/16P(B) 16-ch 1.5U 16 PoE 4K NVR represents the pinnacle of video surveillance technology. With its seamless integration, hassle-free installation, versatile camera compatibility, and advanced functionality, this NVR offers businesses unparalleled security capabilities. Trust in the partnership between HIKD and HIKVISION to revolutionize your surveillance system and elevate your security to new heights.
To learn more about the HIKVISION DS-7716NI-I4/16P(B) NVR, please visit the official HIKD website here.
About Author